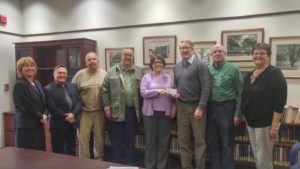 Dr. Beverly Kopper, Mark Dorn, Rick Fassl, Jim Coburn, Stacey Lunsford, Kevin Brunner, Rev. David Yochum, Dawn Hunter
The Whitewater Community Foundation's Board of Directors is pleased to announce the presentation of $1,000 to Stacey Lunsford, Director of the Irvin L. Young Memorial Library. These monies are matching funds that will be spent toward an Americorps and Wisconsin Department of Public Instruction (DPI) Play & Read program.
The Irvin L. Young was selected by DPI as one of seven sites in Wisconsin to utilize Americorps members to enhance the literacy of 3- and 4-year-olds. Ideally, these Americorps members would be recruited locally in order to assist the youth services librarian with early literacy projects, including: community outreach, support for existing programs, conducting early literacy playgroups and home visits, and gathering data in literacy changes and development.
The Foundation has expanded upon its valuable work providing high school scholarships to a multilayered vision of the community. This vision includes collaborating with civic partners to create opportunities for youth and adults to achieve their educational and economic dreams, to create a vibrant city for the arts, and to celebrate and preserve the qualities that make Whitewater exceptional.
Congratulations Irvin L. Young Memorial Library staff! We are so proud of all your hard work!